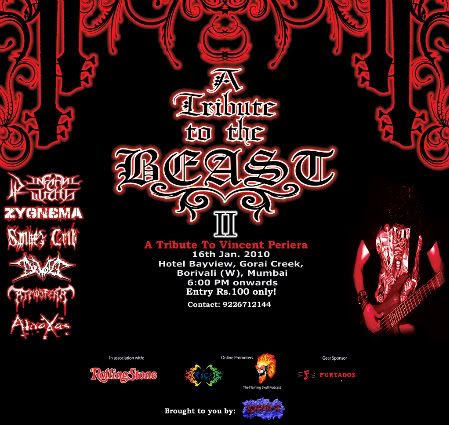 Date: October 22nd 2007. Vincent Pereira, an ardent metalhead, mosher, bassist and friend of the metal community in Mumbai passed away because of an asthmatic attack. His bands, Prakalp, Spiked Crib and Atmosfear along with his close friends decided to come together and organize a pure metal fest in his memory. This gig was to celebrate the life and work of a fine bass guitarist whose musical talents and sheer humility took him places. He featured in everything from the 'The Nagpur Times' to the 'Global Metal Documentary' by Sam Dunn. A die hard Iron Maiden fan who did nothing but made music, all day long.
Last year, the gig was held on November 8th and was a smashing success with bands like Spiked Crib, Zygnema, Atmosfear, Demonic Resurrection, Devoid and Blakc ripping it apart.
This year it's going to get better and bigger. The sequel of the gig will bring you some of Mumbai's finest bands and an affordable entry to enjoy them.So keep yourself free to mosh, headbang, drink and do all that you want to prove your allegiance to heavy metal! Up the Irons!
The band playing include:
Zygnema
Spiked Crib
Atmosfear
Infernal Wrath
Devoid
Abraxas (Pune)
Date: January 16th 2010.
Venue: Hotel Bayview, Gorai Creek, Borivali (W), Mumbai -091.
Time: 6 PM onwards.
Entry: 100/-